About Ritsumeikan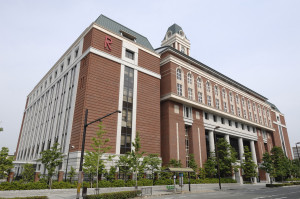 The Ritsumeikan University Biwako-Kusatsu Campus
Located southeast of Lake Biwa, Ritsumeikan University's Biwako-Kusatsu Campus (BKC) combines the study of science, engineering, and technology with the social science fields of business and economics. BKC was opened in Shiga Prefecture in April 1994 as a new base for Ritsumeikan University's education and research activities. The 61 hectare campus is a 30 minute train ride from Kyoto Station. Four undergraduate colleges, plus the pioneering Integrated Institute of Arts and Science, which fuses several interdisciplinary fields, are located at BKC. BKC also houses four graduate schools, including the Graduate School of Technology Management (MOT), established in April 2005 for the purpose of developing professionals with advanced management skills. BKC prides itself on the integration of advanced technology studies with those of the social sciences. Approximately 16,000 undergraduate students and 1,600 graduate students study in this pleasant, natural environment overlooking Lake Biwa.
About Ritsumeikan University
Since its establishment over a century ago, Ritsumeikan University has many significant achievements in education and research while pursuing humanity's common concerns and developing people rich in individuality. Recognizing the increasingly diverse and complex nature of 21st century society, the University formulated the Ritsumeikan Mid-Term Plan with a vision towards solutions for society's needs and responding promptly and flexibly to the rapidly changing world.
The Overseas Education Program of the Ritsumeikan Graduate School of Science and Engineering
The Ritsumeikan University Overseas Education Program has been adopted by the Japanese Ministry of Education, Culture, Sports, Science and Technology (MEXT) as 'Good Practice' to Improve Graduate School Education in Japan.
Ritsumeikan University Graduate School of Science and Engineering has launched the Overseas Education Program for students in both, master's and doctoral programs with the aim of cultivating young researchers and engineers who will be internationally active and contribute to the field of research worldwide.
The program offers students opportunities to experience working abroad or join research laboratories at affiliated universities outside Japan with the support and funding of MEXT. The program has already been attracting companies and research institutions all over the world that are looking for opportunities to work with promising researchers and engineers to contribute to their world-class business and research.
The program can be divided into 2 major parts:
• National Programs at Ritsumeikan University (Engineering oriented education in English, Intensive English course to improve presentation skills etc.)
• Overseas Programs (Joint Research/Education Program, Short-Term Internships)
About Rohm Plaza
The OZ hosting facility, constructed in the year 2000 with support from Rohm Corporation, has been established with the aim of developing the new technology that supports and serves as the driving force of Japan's future semiconductor industry while contributing to the sophistication of very large scale integration (VLSI). At the same time, this facility which offers up-to-date research equipments and facilities in a total area of 6583 square meters has been selected by the Ministries of Education, Culture, Sports, Science and Technology as Private University Hightech Research Center